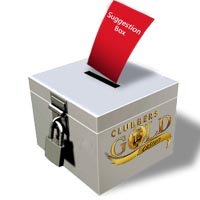 Most of the Club Gold Casino Complaints that we get from online casino players is about the amount of time it takes to withdraw their winnings from their accounts. With Gold Club Casino, you don't have to wait forever!
Our casino has the most efficient and safe cashier that you could ever hope for. We make sure that all your financial transactions are brisk and accurate. At our Club Gold Casino, you won't have to stress about how long your winnings will be cashed out to you.
We employ the leading payment methods that ensure that all your transactions are both safe and fast. Withdrawing from your bankroll has never been easier!
Click here to log-in now and cash out your earnings!
All you have to do is follow these basic steps:
Log-in to your Clubbers Gold Casino account through your downloaded software or through our website.
Click on our cashier page from your home screen and select 'withdraw'.
Choose what kind of payment method you'd like to use in order to receive your withdrawal. Note that you can only use the method of payment that you have enlisted the service of in making a prior deposit.
Enter in all the right information required and your good to go!
There is a 24 hour process that our financial department goes through to confirm your withdrawal then you'll be counting your winnings in no time!
With any other complaints about Gold Club Casino, our 24/7 Gold Club Casino Support team is available for you to get in touch with anytime to address your concerns. You don't have to complain and burden yourself any longer about having your withdrawals held-up!
Club Gold Casino has made it a point for you to have the best online casino gaming experience you could ever have! Our cashier gives you the finest and most conducive casino banking you'll ever find!
Last updated on November 18, 2013