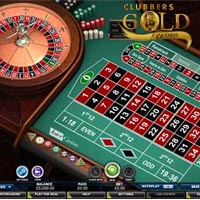 Feel the heart-stopping excitement as you watch the croupier spin a roulette wheel and determine if the ball stops in your favor when you play this classic casino game at Gold Club Casino!
Have a go at this wheel of fortune as you wager in on any of our online roulette games we have available and see how high you can boost your bankroll! Club Gold Casino gives you a variety of roulette games to choose from for you to enjoy!
Play this ever popular table game in all the different selections we have such as:
3D Roulette – Go on a virtual tour of table games at live casinos a world away with our life-like roulette wheel!
American Roulette – Pick out your lucky number from one to thirty-six and see if the ball falls in the nook with those digits. Or better yet, go big or go home as you stake on the ball falling on a zero or double zero.
European Roulette – Have a kick out of all the combination numbers, single numbers or colors you wager on and see if you can increase your income in a spin of a wheel!
French Roulette – Feel the heat as you sit on the edge of your seat as you find out if your number is the winner.
Create a Clubbers Gold Casino account with us now and escalate your winnings as you wager in on any of our online Gold Club Casino Roulette games!
Discover the joys and exhilaration that this incredible online casino game brings you as you wager with all the kinds of bets you are free to go for! Whether you make a single, corner, trio, basket, top line, manqué or passé wager, there's no denying the excitement you get as the ball stops to a halt within the roulette wheel.
Click here to join us now and try your luck at any of our online roulette games!