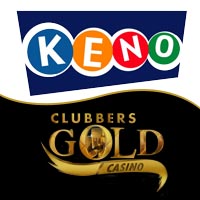 Have a go with one of our most enticing online casino games at Gold Club Casino! With a twist to your classic, run of the mill lottery games, our Keno and Bitcoin keno games bring you all the enjoyment and thrills as any of our casino games provide in a more laid-back setting.
Fill your spare time and be a winner with the most entertaining online gaming experience you could have with Club Gold Casino! Create an account with us and ease away all your daily hassles as you relax and entertain yourself with the riveting game of Keno.
Grab the opportunity to gain so many winnings as you indulge in the delights of this uncomplicated and gripping online game at our Clubbers Gold Casino! Going about playing our online keno game is pretty simple to understand.
Anyone can take part in all the fun that comes with engaging in our keno games! Here's how you play:
Once you've logged in to your Gold Club Casino account, click on our

Gold Club Casino Games

page and select our online Keno game.
The game will load into your downloaded software or as a flash version in our website. You'll see a chart of numbers in front of you ranging from 1 – 80.
Proceed by topping up your account with either real money or bitcoins. For users of the cryptocurrency, you can use the Bitcoin-accepting payment methods to process your bitcoins.
Put in your desired wager any pick any of the numbers of your choice. You can choose to pick as few or as many numbers you wish up to 20 digits.
When your set on the numbers, hit 'play' and determine how much winnings you get as our keno machine selects the random numbers to win at random.
The payouts are endless the more numbers you hit with every game! Your payoff all depends on the number of matches you get, so the more digits you get to match the more you earn!
Click here now to register with us and you can be consumed with all the enjoyment our Club Gold Casino Keno games provide!